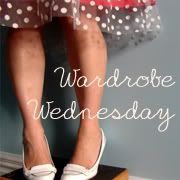 Eeekkk nervousness ... my first Wardrobe Wednesday
So lets just get it over with .....
Firstly, I HATE having my photo taken, it felt weird! But it had to be done huh! The wind was blowing my top up and I was laughing a bit and it was starting to rain. Fun times!
Anyway .....
I am wearing my brand new
Hazeltree
Magic Skirt which I LOVE! I can't wait to test out all the different ways to use it!! I think I definitely want another one ... real soon!!!
I have my eye on this one ....
I have been very good at not wearing slobby clothes this week, I have worn my boots everyday and haven't worn a T-shirt!! I do think I might need some new Bras .. gah I hate bra shopping!!!
So I am getting there .... baby steps I say! Just little baby steps!!
See my post about coming out of the closet
HERE